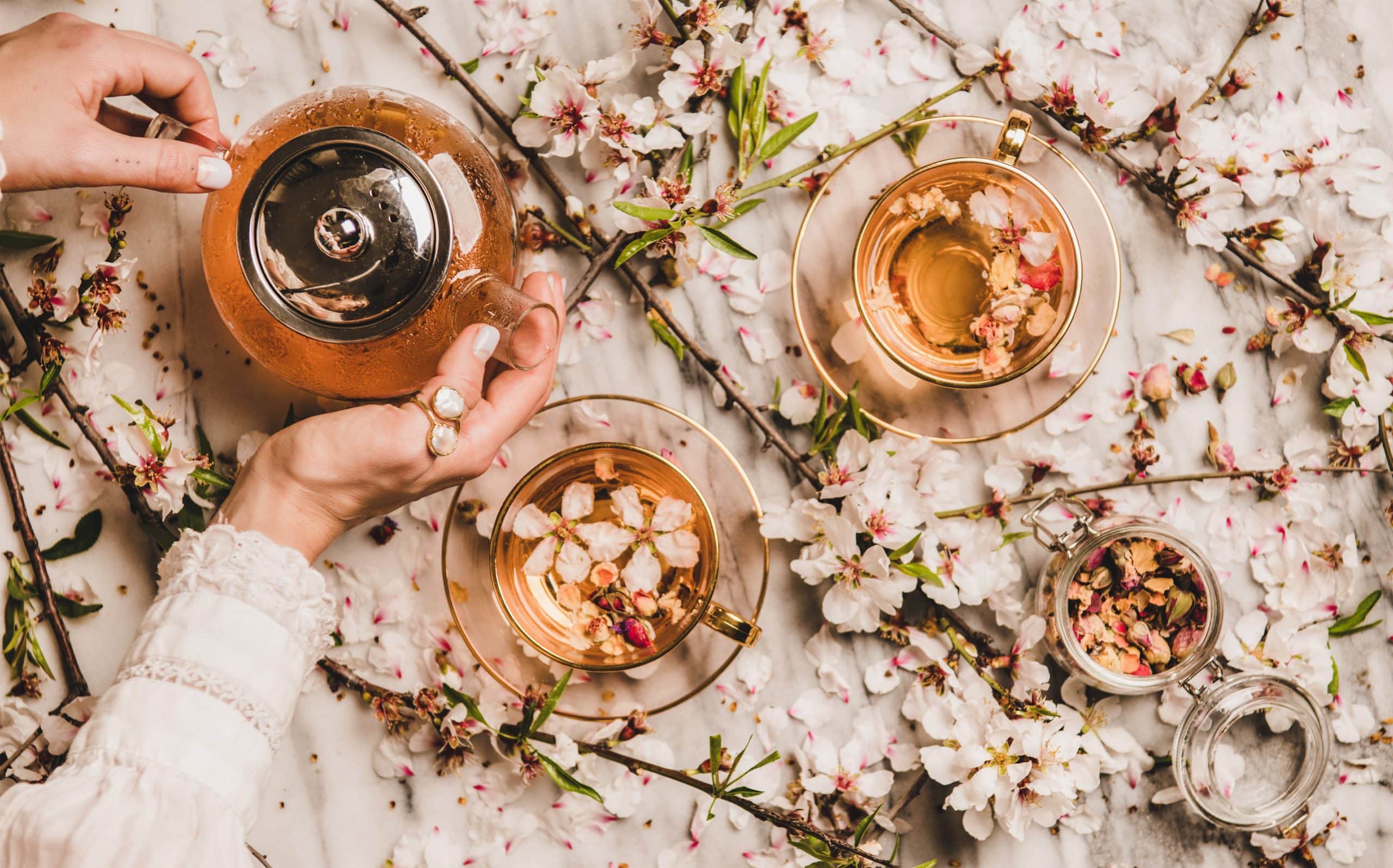 The Middle East and North Africa have been the fastest growing coffee market globally since 2015 and they promise further growth over the next decade. MENA region represents a coffee market of over USD 616 billion, making it one of the biggest emerging specialty coffee markets globally, whereas the Middle East and Africa key market was worth USD 6.73 billion in 2021 and is estimated to be growing at a CAGR of 5.3% to reach USD 7.8 BILLION BY THE YEAR 2026. According to reports, Saudi Arabian coffee imports rose by 42.8% between 2008 and 2018, Turkey saw 192.8% growth and the UAE saw an incredible increase of 249% in imports. Similar stats exist with tea since Dubai has recently been recognized as the world's largest exporter of tea. With the Middle East experiencing a boom like no other, we're trying to catch up with this ever-growing demand for organic tea and coffee.
We spoke to experts from the industry to find out more about the boom that the Middle East is experiencing and discuss how to catch up with this ever-growing demand for organic tea and coffee.
The current demand for organic tea and coffee in the MENA region
"I have seen that there is a movement towards holistic health and being mindful about what we put into our bodies, so we've seen a rise in sales when it comes to our wellness teas. Post-covid, people have been wanting to up their game at home; they have started sourcing specialty coffee along with investing in coffee-making equipment to replicate the coffees that cafes serve. This is the same case with teas as well. Consumers now care about where the tea/coffee is produced, whether it's been ethically sourced and whether the ingredients are of premium quality" shared Tania Lodi, CEO, of Tania's Teahouse, Dubai's most aesthetic hotspot and the 7th most Instagrammable café in the world.
Tauland Hyka, Category Manager, Chef Middle East LLC., a leading importer and premium distributor for brands such as Mikah, Vertea, and The Leaf; stated that" a few years ago, when the concept of organic was introduced in the Middle East, we were always striving to bring brands which promote healthy organic products. we are always trying to see if we can start working with brands that produce organic tea and coffee to cater to the immense demand in the region."
"Organic Products play within the context of health. Consumers are becoming more mindful of what they feed their bodies and choosing organic alternatives is often correlated with health benefits. This creates a demand for organic tea and coffee. Once there is a demand, it becomes an organization's responsibility to cater to that demand" added Nishant Bhatia, Sr. Innovation Manager, Costa Coffee; a household name and one of the fastest growing and largest coffee chains in the Middle East and the UK.
What trends are you currently witnessing or expecting to witness for organic coffee?
Nishant started "health definitely seems to be the biggest trend within that space. Along with that, we are also seeing the rise of vegan, plant-based options. The demand for organic products, in general, is expected to skyrocket."
"When it comes to the café world, at the end of the day what the consumer sees is the last point in the supply chain which is the retailer. I've noticed that post-pandemic, customers have started to crave a special experience when it comes to purchasing coffees. They are constantly on the lookout for cafes that provide a unique experience" shared Mohamed Al Madfai, CEO, of Emirati Coffee Co. a third-generation specialty coffee company that has close to 88 years of experience in the industry.
Tania further stated "I definitely agree with the point that people crave a special experience. As a brand, Tania's Teahouse sees that as a touchpoint to reel them in and educate them about why our brand is different from others and to educate the customer on the array of specialty teas and coffees we offer. People are also seeking specific immunity-boosting or health-cantered elements in their teas and coffee, and I think that's where organic comes into play. Post-COVID, people have started taking interest in finding out more about adaptogens. They definitely don't know the meaning of it but they're curious to learn more about the same. Adaptogens are herbs and ingredients that increase your resilience against environmental stressors. In this day and age, there are a lot of environmental stressors for everyone. This is the reason that we add immunity-boosting ingredients to our blend of tea. Interestingly enough, people are interested in trying other flavors that aren't the basic green, earl grey, or black tea. Consumers take interest in infusions and a guilt-free aspect of getting a tea that tastes like cookie dough, cheesecake, or a fascinating blend of different fruits within. Another up-and-coming trend in this market would be the increasing popularity of plant-based milk. Part of the reason for that is the intolerance aspect and the rest of the reason is that people are more conscious of the back story and ethics of a brand they're sourcing from."
"I see a lot of my customers asking for recipes that would help them incorporate coffee into different dishes in their cafes. Several cafes now have a specific menu for coffee and tea-infused cocktail menu. I've also noticed an increase in demand for dandelion-infused coffee and tea. Another interesting trend is the increasing demand for iced products. People ask for ready-packed iced tea or coffee to use in mini bars or to sell as a grab-and-go drink. Specifically in Dubai, a few brands like Starbucks and Dunkin have used this trend to their advantage and created their own grab-and-go canned or bottled drinks and made them available in supermarkets, groceries, and more. As mentioned before, the experience is also extremely important because people no longer want to drink coffee just to replenish or hydrate themselves, they want to drink coffee to show the world that this is what I'm drinking, and this is the experience I'm having while drinking that coffee. Consumers spend a lot of time picking a drink that is going to make them feel good but also looks good at the same time" Tauland shared.
Dubai is a hub for a lot of tea and coffee, there is a lot of scope for re-export as well. Where do you see most of your specialty tea or coffee coming from?
"I'm currently working with a company called Tea Trading International located here in the UAE. What they do is, bring teas that have originated in different parts of the world. For example, as distributors, if we want to source from a specific part of the world, we tell them, and they make sure that they reach out to people who sell that and bring it here. Currently, we have been sourcing from countries like Kenya, Mozambique, South India, Tanzania, and Assam which happens to be our main region of sourcing for black teas. When it comes to green tea, we source it from China. Since a lot of countries could falsely certify their products as organic, we mainly source our organic fruit and mint teas from Germany because we trust that the country is very rigid with its rules and certification for organic products. When it comes to coffee, we bring everything from Italy, South America, and India. Being a commercial team, we are not always focusing on being super selective because it is also about the pricing. We want it to be of good quality but also want it to be inexpensive because when it comes down to the consumer, they always demand for products that don't cost a lot" claims Tauland.
Mohamed added "honestly, when it comes to organic coffees, most of it comes from South America. Our current coffee is coming from Peru and India. We have noticed a surge in organic and our buyers from Columbia were informing us that Nespresso for example, came and bought a huge lot because they're looking to dive headfirst into the organic market and offer organic coffee capsules. There is a huge demand, but the supply is not big enough to meet the demand."
"From an overall perspective, all our coffees come from the UK where we have a roastery; however the coffees that come to the UK are predominantly sourced from Brazil, Colombia, Honduras, and Vietnam. We specifically chose these countries as they have the best ethically sourced green beans" shared Nishant.
What does an exporter need to have in terms of certification, product labelling, and registrations to start exporting to this region?
"What I think makes UAE a hotspot for exporters to bring in their coffees and other products is that it's very comfortable to work with the UAE when it comes to exports and along with that the infrastructure for logistics is very much present. Unfortunately, none of the things that are being exported when it comes to tea and coffee is manufactured here because the UAE does not grow tea or coffee. With the rising oil prices and with a crisis on the verge and flight prices going up, a lot of people are shipping directly to wherever their markets are. But the UAE still remains to be a great place for an exporter to come and get experience on how to deal with the Middle East and what to expect from the Middle Eastern market before entering bigger markets like Egypt, Saudi Arabia, and other big markets within the region. The Exporter requires a certificate of origin and full details on where this product is manufactured and when it was produced. With DMCC being in a free zone, it is easy, fast, and affordable to store your product there. We store all of the coffee we buy there in a state-of-the-art facility. It is extremely easy to take it onshore from the free zone to the mainland. The documentation process is also as easy as shipping a document through DHL outside of personal documents" started Mohamed.
"As a café, we mostly use a freight forwarding company and there's a lot of them in Dubai that would help with the whole process. For the paperwork part of it, there should be full transparency about the ingredients of the product in both English and Arabic. We were fortunate enough to work with a company that helps with the entire process. In terms of coffee, we source it from a local coffee supplier so that we don't need to work with the back end and make it a more straightforward process" revealed Tania
How important is it for you that the coffee and tea are ethically sourced? How does it align with your sustainability goals?
"I think that there are two parts to this. One is from the customer's point of view while the other is from a brand perspective. Looking at the question from the first angle, I don't think customers are educated at that level where they think about what kind of efforts a brand should go towards to become sustainable. However, from a brand POV at Costa, our core values are associated with sustainability which is why we're associated with the rainforest alliance to make sure that we only use ethically sourced beans. We also have the Costa Foundation which helps in building schools in Africa and other developing countries because as a brand, we think that it is our responsibility to give back to the society from where we're getting our coffee" claims Nishant.
Mohamed added that "Our mission is to make the highest quality specialty coffee accessible through competitive pricing, high-quality sourcing, and vertical integration. We are involved with all aspects of the supply chain. It's very important for us to be environmentally sustainable which we believe is the core of what we do. Certification is also important to us. Some coffees are organic but not certified. Since it is very important for us as a brand to be sustainable, we provide our customers with full paperwork and transparency on where their coffee comes from."
"We can't do the process of tracing a product's origin, so we heavily rely on the certification of the product provided by the suppliers. Normally customers wouldn't personally dig much or investigate much on the specifics about product origin as they trust and believe in the fact that whatever we as a distributor provide would be transparent. This is the reason why we work with suppliers who are trustworthy and certified. It is our responsibility to uphold that faith they have placed on us" shared Tauland.
Tania further added that "As a niche brand, our USP is to be mindful of the efficacy of our teas. We have all of our tea ethos highlighted on our website for our customers to see. We work with a private supplier for sourcing the teas along with which there are tea plantations that are a part of the ETP, which is the Ethical Tea Partnership. They monitor and regulate the social conditions of the estates and they ensure that a percentage of profits for goods remain in the hands of the workers who created them. We also highlight the environmentally friendly aspect of our team. Most of our teas are hand plucked and this harvesting process consumes a very little amount of fossil fuel, and it virtually releases no CO2. We also use special machines to ensure that no foreign objects are in the tea."
What future trends are you predicting for the tea and coffee industry?
Tania started "I see a lot of cold brewed iced teas. A lot of people are interested in cold brewing their teas at home. They look at easy-to-follow recipes of infused teas and follow those steps to make their batch of teas and pop it in their fridge. This is probably because cold drinks have a longer shelf life. I also see a big trend and demand for instant sachets; something that hasn't been compromised based on quality so I would say a more premium version of instant tea and coffee."
"As mentioned by Tania, I too definitely see an increase in the demand for iced beverages to a level where it is a double-digit growth from what they were. Younger audiences making their shift to cold brewed coffee and tea could be a major reason why there is such a rapid increase in demand. We are also seeing that customers are increasingly asking for plant-based alternatives for drinks of their choice" informed Nishant.
Tauland added that "I can see the demand for drinks like Kombucha skyrocketing as pre-batched products are more in demand now than ever before. I also believe that organic is going to be more prominent and once it is, the demand for those products will continue to soar."
Lastly, Mohamed added that "In this day and age, it is really hard to predict what the future trends are going to be and that is because trends are controlled by non-industry personnel but if I had to mention something, it would be the demand for the experience. People are constantly on the lookout for beautifully designed cafes. This is because they believe that it adds value to their coffee/tea drinking experience."